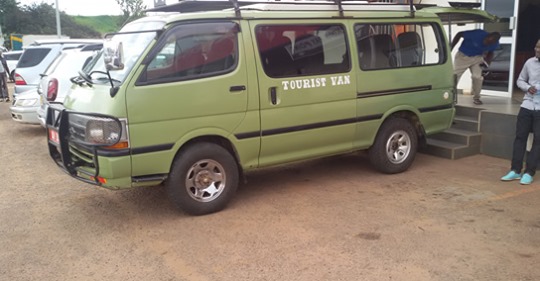 Wishing to travel to Uganda in a group of 6-9 people a 4×4 safari van is the ideal car to hire in Uganda. This van looks like a supercustom van but stronger and larger. Many travelers who have previously travelled around Uganda say, it is the best car for a group safari. Though its rental value is a bit high compared to the Toyota Supercustom (ranging from 65-100$), its consumption of fuel is very economical and also most of the safari vans use diesel which is the cheapest gas for cars on the roads.
These are normally Toyota Hiace cars. These are minibuses that are relatively smaller than the Toyota coasters. These vehicles were first launched in 1967. Series of generation have been coming up by years as there five generations of these cars. The last generation dates from 2004 up to date. These vehicles normally carry 15 people including the drivers. Way back they used to make only those with rear wheels but nowadays there are those with four wheel driver. These vehicles are normally of manual transmission. They have a long wheel surface and a well-defined roof. These cars normally use diesel gas to run their engines. They have four doors that is two up front besides the drive seats, the mid large door for the passengers and the emergency exit.
In Africa there are largely used as public commuter taxis that carry people from one destination to the other but also used for safari vacations. These are normally used by families and also colleagues to travel to tourism destination. When being used as the safari vehicle, they normally carry nine people. At times, they are modified by putting an open roof so that tourists can see the exotic animals while on a game drive in the national parks. These cars are hired in Uganda mostly for group safaris.
VAN Specifications:
Engine Size:       2,980cc
Drive:    2 or 4wheel drive
Steering:             Right
Transmission:    Automatic /Manual
Fuel:      Diesel
Manufacture Year:          Usually 1990-1998
Seats:    8-10
Doors:   4