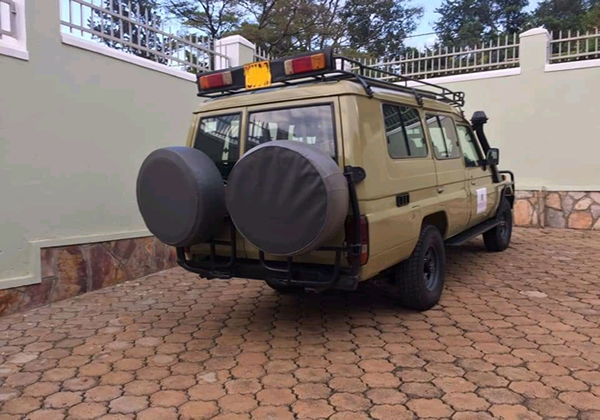 Rent an 4×4 extended safari jeep for a luxury self drive safari in Uganda. The land cruisers are the best cars to rent in Uganda for a safari vacation in Uganda since they are 4WD, comfortable, reliable and durable. These are the most popular vehicle for safari trips in Africa. At self drive in Uganda, we hire out 4×4 safari landcruiser with a driver because it's sophisticated driving features on it and also has driving permit restrictions by the Authority. It is the most expensive car in the catalog, it ranges from 200$-280$ per day.
This is the most famously know vehicles for safari trip in Africa. These are normally Toyota land cruiser made for wildlife trips. They are bigger than the usual Toyota land cruiser. These vehicles are normally found in cream, yellow and green colors. These are four wheel drivers with very large comfortable seats and they normally carry up to 6-8 people and large tyres that suspend the body of the car from the ground very well.
They have a roof cabin to carry the large luggage of tourist at time they have open roofs to enhance the watching of wildlife in their natural habitats. At the back of these cars, there are two interlocking emergency doors with handles of spare tyres. The safari land cruiser a well-designed interior meant for tourists like air conditioners handles for drinks and containers, good spacing of the seats to make all people comfortable in the car. These are the most known 4×4 car hires in Uganda.