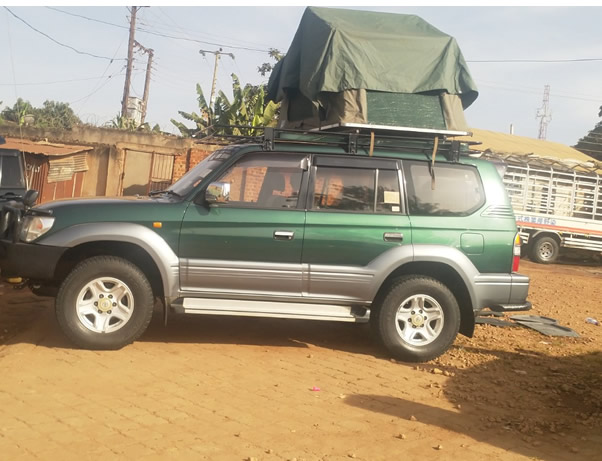 Book a 4×4 roof top tent car with self drive in Uganda to have a whole new experience on spontaneous road trip in Uganda.  The roof top tent comes in handy with a Toyota land cruiser Prado (4×4 jeep) at a relatively economy price starting from USD 100$. What better experience can a traveler on an adventurous self drive safari in Uganda have than renting a land cruiser with a rooftop tent? This is a very unique expedition, a trip that is niche to only travelers who try it out.
Travel around Uganda in a flamboyant and exuberant way spending your nights up at the roof of your rental car with no worries of wild animals to invade your campsite.  At the roof of the car, you have a good view of the sky and its star rewarding with an ecstatic view in the wild.
This is a self drive experience that commands get comfort and convenience from all corners. The 4×4 land cruiser is well known for its great comfort, combativeness and speed on the road and your stay in the roof top tent adds more assurance and comfort since its free from any ground threats.
The land cruiser with a roof top tent comes in handy with other camping gears like mattresses, camp chairs, tables, sleeping bags, torch, cooler box, cutlery, gas cooker and cooking utensils.
The roof top tent is designed for two people and the most interesting part of it, they pay an all square price of USD 100$ for all the package that includes the rental car, tent and other camping gears. What better offer would a road trip traveler get? This is unbeatable and exciting at the same time. Hiring a car with a roof top tent enables the traveler to have a night stay at the roof of the rental car in the jungles of some of the great national parks in Uganda.